Pet ferrets, just like any other pets or even us humans, have widely varying individual personalities. So some ferrets are just a little more, well, "high strung" than others. And this means that if your ferret displays aggressive behavior or tries to bite and nip, you need to determine the cause of this feisty ferret behavior.
So let's narrow down the aggressive ferret behavior to biting and nipping.
5 main reasons why ferrets do this.
This particular ferret is just plain mean. It's very rare because almost all fuzzies are playful and loveable. But occasionally, especially when it has been rescued and has suffered abuse in the past, a ferret becomes extremely aggressive as a defense mechanism and simply as a way to survive.
Obviously, ferrets don't possess the power of speech, but they still have ways to tell you things. And one of these ways is by nipping. Your ferret may bite because he is ill or suffering from a serious disease. A formerly well behaved ferret that begins to bite should be taken to the vet.
Ferrets are carnivores – you can tell that just by looking at their teeth. But before they were domesticated, they were the prey of larger carnivores. It's just natural, then, for baby ferrets and young kits to react with a bite when they are startled or feel threatened.
If your new fuzzy is an adult ferret that nips, the reason for this behavior may be very simple. It may simply be that the previous owner(s) never taught this ferret not to bite. Or, perhaps even worse, your ferret may bite and nip the previous owner(s) inadvertently encourage this behavior instead of discouraging it.
The most common reason for ferrets displaying aggressive behavior, especially biting and nipping, is simply that they still don't trust humans. Ferrets that have been abused or have never learned to trust will often bite.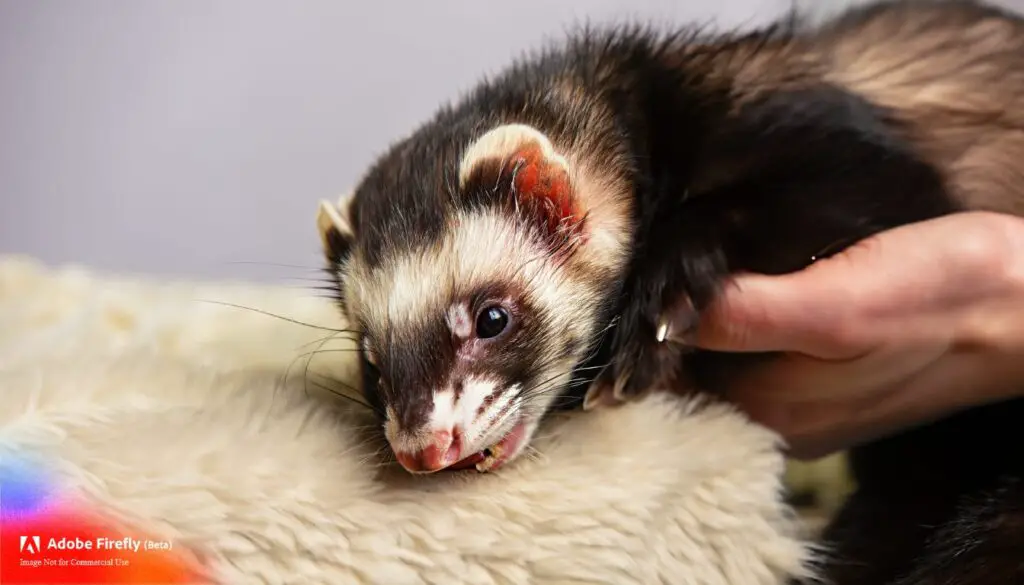 The first two ferret biting problems you may not be able to do much about. But nipping that stems from the other three causes – young ferrets, untrained ferrets, and untrusting ferrets – you can generally do something about.
For babies and kits that bite, the solution may be as simple as giving them a time out. When they nip, just put them alone in a pet carrier for a few minutes. Ferrets are very social animals, and they usually don't like this. Just remember that the goal is to discourage the aggressive behavior – not to reward them with a nap time.
Usually, though, you will need to take a firmer approach, especially with aggressive older ferrets. Here's what worked with my wife's panda ferret, Possum.
When Karen first got Possum (as a new baby brother for Rikki), he was not quite three months old. And being young and not fully trusting us, he would occasionally try to bite. So when he did that, Karen would pick him up gently (so as not to provoke further aggressive behavior) but firmly by the scruff of the neck while supporting his hindquarters with her other hand.
Holding him up in this position, she would issue the forceful, unequivocal order "No!" She would also occasionally squat down so that Possum's bottom was supported by her leg. And then Karen pointed and shook the forefinger of her free hand at him to emphasize the message.
Just a few times of this did the trick. Now that Possum is a little over a year old, he is a slightly pudgy, laid-back, non-biting ferret.
There are other aggressive ferret behaviors and more techniques for discouraging and redirecting them. You can learn about these in the recently published