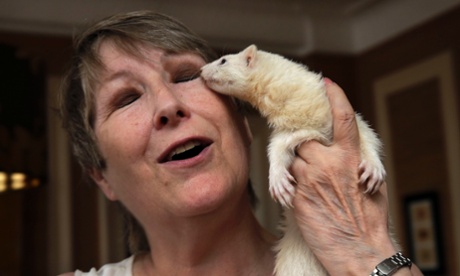 For 15 years, ferrets in New York City have been living in the shadows, outlawed under Mayor Rudolph Giuliani, who famously told a ferret fancier that "this excessive concern with little weasels is a sickness".
Now there's a bit of hope for the slinky creatures. Years of lobbying by ferret owners has finally landed an audience in Mayor Bill de Blasio's administration, which says it could hold a hearing by the end of the year on a measure to make ferrets legal once again.
"Why would you ban ferrets?" asks Candace Lucas, who has owned ferrets for about 25 years and currently shares her Manhattan apartment with six-year-old Tink. "How is a ferret any different than having a dog or a cat? Why would a ferret be something that would create any kind of problem?"
Ferrets are legal in most of the US but are prohibited in California and Hawaii and in some municipalities, including New York City for the stated health department reason of "vicious, unprovoked attacks on humans". Backers say ferrets don't attack unless they have been starved or abused.
Read the full story here.